Cruise Craft Boat Covers Made to Measure.
Cunningham's have been approached to manufacture many cruise craft boat covers over the years, but this one was a particular challenge! When we were asked to design this cruise craft boat cover we stepped right up to it.
Our client wanted a good looking structure that matched the good looks of the cruiser and those around it. We created a tunnel structure in cruise boat blue, marine graded canvas. The structure could not be permanent to comply with the site mooring rules. Our solution ensured the structure could be easily removed and stored and just as easily reassembled at any time or at another site.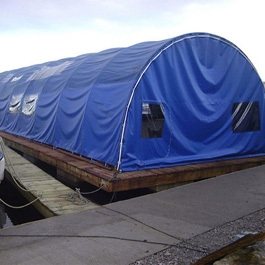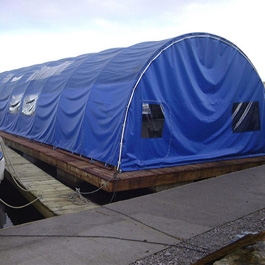 Cunningham Covers have years of experience manufacturing made to measure cruise craft boat covers using the best materials to keep your craft protected from the elements. Our covers are water repellent, mildew resistant, and UV resistant. They will endure any weather, look good and are easy to use and fit. They will preserve the value of your boat for years to come.
Our covers are excellent for storage, either on dry land or in the water. Our marine grade canvas is perfect for this type of application.
All our boat covers are custom made to order, so allow 3-4 weeks for manufacturing and delivery.
We at Cunningham Covers will not only to provide a cover for your boat, but will provide you with the right cover for your boat. We can assure you that our covers will last for years to come.
If you have a similar issue or indeed if this solution would work for you, just give Trevor or David a call on 0845 3045 532 or 00 44 2879 642 638 from outside the UK. We accept orders online or by phone.
Feel free to email us with a photo of your boat or submit an enquiry for a boat cover on our tarps site by clicking the banner above.