The market leading tarpaulin manufacturer


Cunningham Covers was founded in 1969 by current chairman, Gordon Cunningham, to supply the needs of a local trailer manufacturer. Since those early days, the company has steadily increased its production capacity and experience to encompass a wide range of advanced products.
Using the most up-to-date materials and technologically advanced equipment, Cunningham Covers, together with a dedicated workforce and after-sales service, have helped to contribute to the company's growth over the past 50 years. We are proud to be a Market Leading Tarpaulin Manufacturer across the globe.
Entrusted by hundreds of companies we have produced the finest in our field to suit many differing needs. Working closely with our clients we have dealt with complex textile issues to create the most appropriate, attractive and effective solutions for each unique criteria. Markets include Europe, Middle & Far East, Australia and New Zealand.
Our Purpose, Vision & Values
Cunningham invests heavily in Research & Development. We partner with industry leaders, government and academic solutions all over the globe. This allows us to develop a world class product and service for each of our customers.
If you have an upcoming project or want to find out more about how our innovations and technology can help you, don't hesitate to contact us.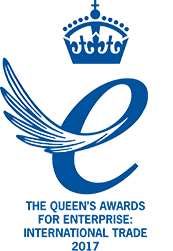 Cunningham Covers Ltd has gained one of the UK's most prestigious awards, the Queen's Award for Enterprise.
The company was awarded for its successful design, manufacture and marketing of an extensive range of clever protective covers for valuable assets such as transportation, farming, manufacturing, aviation, oil and gas production and education.

Innovative and diverse, bespoke solutions
Further to providing you with such an extensive range, we can also make our products unique to your company, strengthening your brand identity, maximising your advertising potential while making your transportation aesthetically pleasing. Our tarpaulins and curtain sides not only come in a range of different colours but they can also be designed to include your company name, logo and details and also graphics to maximise their impact. Take a look at some of our work in the Project Portfolio to see just how effective our tarps and tension curtains can be.
We offer a wide range of covers suited to many applications from DIY, home & garden, construction, oil & gas industries, transport, agriculture, quarrying and outdoor advertising just to name a few.