Industrial Partition Curtains Made to Measure
Partition curtains for factories for heat retention, noise reduction or subdividing a large area, these curtains are flame retardant and easy to fit/remove. PVC strip curtains, PVC stripping available on roll hangers and plates. Loading shelter curtains, available on rail to slide open for ease of access. Reservoir battle curtains for drinking water made to all W.R.C. specification.  Noise reduction covers are very effective in paritioning  buildings into smaller areas with the added value of cancelling sound from the different areas that are in use.  If you have extremely noisy machines in your factory we can manufacture a Noise reduction Tarpaulin to cover your machine when in use to stop unwanted noise.
Cunningham Covers factory partitioning solutions
Fitting partitioning systems
You can fit our single skin flexible partitions to any factory with unique fixing methods. These PVC dividers will be supplied to your company in kit form so you can fit in-house. Once our engineers design your solution, our experienced fabricators get to work and manufacture your bespoke PVC dividers.
We can fit our flexible solutions in and around awkward machinery and to the exact shape of your building, ensuring we cover gaps or any areas where dust or draughts can get in or out. Care is taken by our experienced staff to ensure we produce your cover to your exact specifications set out upon order.
Fully flexible partitioning systems
We have experience in creating factory partitions for a variety of industrial issues, always creating solutions that will give your factory a safe and productive working environment.
Our knowledgeable technical staff will help you at every step of your journey, ensuring all your factory's needs are met. No matter what the problem is, we will happily talk through the issue and find a solution.
"We had a strong fume coming from part of the manufacturing process which spread right across our factory due to change in manufacturing. We wanted to control this fume so it didn't spread right throughout the busy work environment. Cunningham Covers set about designing different areas that could be segregated. We saw huge benefits, not just stopping the fumes from spreading but the factory partition saved us money on fuel costs and also reduced the noise from machinery resulting in a more enjoyable work environment."
If you have a similar issue or indeed if this solution would work for you, just submit an enquiry and we'll get right back to you with a quote. Or give us call on 028 7964 2638 or 004428 7964 2638 from outside the UK.
Loading bay curtains on a beam in a busy factory environment
These loading bay curtains were made to measure so that a protective environment was created yet enables total access and flexibility on space.
Manufactured in 900g PVC with clear windows for safety, these curtains slide back and forth in separate sections, allowing different access points.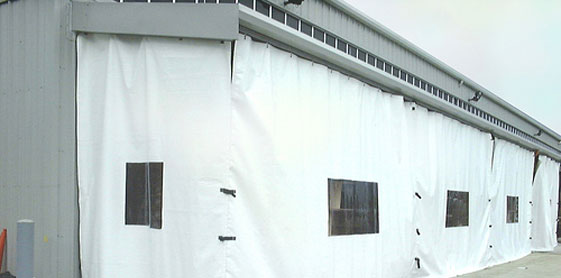 Our Clever Protective Covers can be recycled or repurposed in line with our sustainability goals.
Industrial Partition Curtains
Get a No Obligation Quote In 2 Hours or Less*
At Cunningham Covers we make it easy to get a quote for your exact specification using our clever forms. Simply enter the details of what you'd like, shape, size & colour and we'll follow up with an exact price for your cover.
* During standard working hours. Quotes may take longer when we're experiencing a high volume.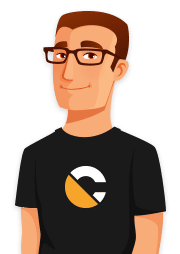 Want us to call you back?